Today, I will share this great concept with you, one of the most cost and space-efficient, practical ways of growing ever conceived!
Whether you garden as a hobby that helps you unwind after a stressful day, or a necessity for living a homestead or off the grid lifestyle, we're all looking for eco-friendly and cost-effective ways to grow our own food.
What's even more appealing is having an affordable system from scrap material that allows you to extend your growing capacity transforming your organic waste in fertilizer!
WHAT YOU WILL NEED:
250 Liters barrel
15cm PVC Pipe 120 cm long
Jigsaw, with regular multi-purpose blade
Vine empty bottles
Silicone Gun Sealer
Torch
Drill
This planter integrates vermicomposting to produce the perfect growing environment for 50 vegetables, herbs and select fruit in just 1.3 sqm. If you wanted less pockets and grow bigger veggies just take away a row or two.
It can virtually be an entire garden in itself – plant the sides in strawberries, lettuce, potatoes, herbs, carrots, beets, and hundreds of other plants, and a tomato and pepper in the top.
The inbuilt compost system (a tube that runs down the center of the tower where you add compost worms and empty your organic kitchen scraps each day) not only produces rich dark compost and compost tea (called worm castings) that can be put back into the tower creating a nutrient dense growing environment for your plants, but also reduces your organic waste that would otherwise be just waste.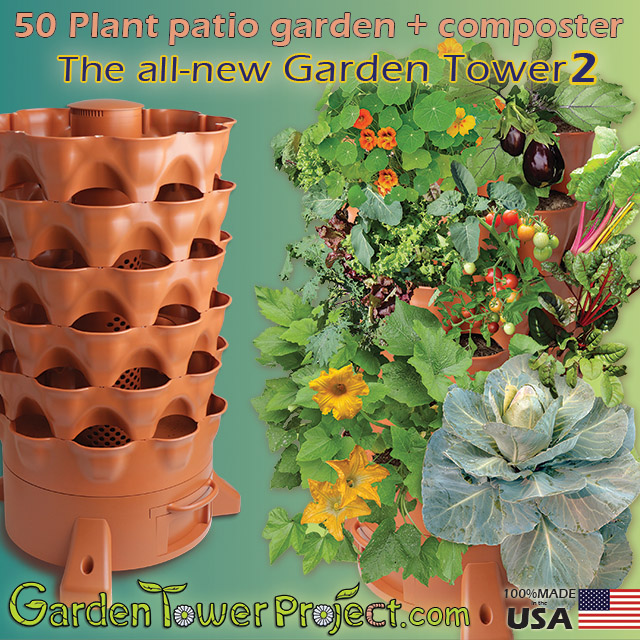 ---